Travel to Nathdwara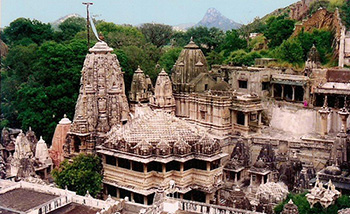 Nathdwara, which lies at a distance of 47 km from Udaipur, is one of the most celebrated religious sites in India. Also known as the 'Gateway to the Lord', Nathdwara is famous for its Vaishnava temple of Lord Srinathji, which protects the sacred image of Lord Krishna as Govardhan Giridhari. This image, which was originally protected at Mathura, was brought to Mewar to protect it from the wrath of the Mughal Emperor Aurangzeb.
Settled amidst idyllic hills, the old-fashioned little town of Nathdwara is a beehive of activity all throughout the year. Numerous winding lanes and alleys lead to the most well-known spot of the town that fascinates thousands of followers every day. The town also has several souvenir shops selling some very good silver items. The best time to travel to Nathdwara is from September to December.
Tourist Attractions in Nathdwara
Some of the well-known traveller fascinations you can visit when you travel to Nathdwara are itemized below.
The Srinathji Temple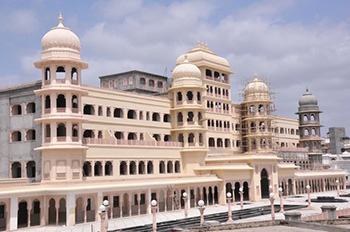 The Srinathji Temple is one of the most significant pilgrimage centres in India. This sacred temple was constructed in the 16th century and houses a sacred image of Lord Srinathji (a manifestation of 1Lord Krishna) that is supposed to date back to the 12th century BC. Visited by followers from all over the world.
Rajsamand Lake
Rajsamand or the Royal Lake is an artificial lake constructed by Rana Raj Singh I in the 16th century to provide employment to the victims of the widespread drought that swept Rajasthan at that time. The lake is around 7 km long and 3 km wide with a depth of 19 meters. Several ornamental arches and chhatris adorn the embankment of this lake, which is also one of the biggest artificial lakes in Rajasthan.
Nav Chowki
The Nav Chowki (the Nine Pavilions) is located on the banks of the Rajsamand Lake. This pillared structure, paved in marble is adorned by a number of intricately carved chhatris and ornamental arches that give it a very elegant look.
How to Reach Nathdwara
Road: Nathdwara is well linked by road to Udaipur, which is 47 km away.
Rail: The nearby important railway station is the Udaipur Railway station.
Air: Udaipur is the near airport, which is well linked to some of the major cities in India.
India Tour Makers provides tour packages to Nathdwara. For more information or to book a tour, please fill in your query in the form given.