Travel to Mandawa
Mandawa, a rural town located in the Shekhawati area of Rajasthan is commonly well-known as the 'Open-air gallery' of Rajasthan. A local Rajput warrior named Thakur Nawal Singh recognized this town in the year 1757.
Mandawa is now famous for its beautiful havelis and castles with their decoratively painted walls and frescoes. The best time to tourism to Mandawa is during the winters (October to March).
Tourist Attractions in Mandawa
Some of the well-known traveller fascinations you can visit when you travel to Mandawa are itemized below.
The Fort of Mandawa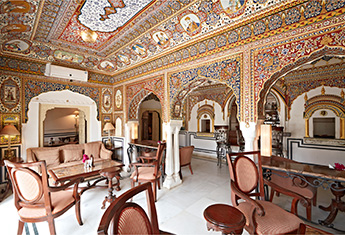 This splendid fort is situated in the heart of the town of Mandawa. A number of attractive paintings decorate the rooms of this fort, which has now been transformed into a heritage hotel. The walls are richly decorated with difficult carvings and mirror work, which are a luxury to the eyes of any tourist.
Havelis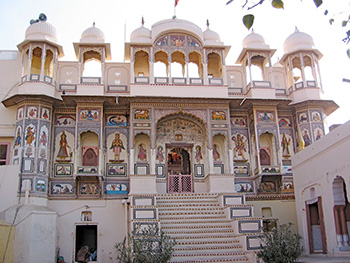 A number of antique Havelis that dot the entire countryside of Mandawa form the main attraction of this small town. Some of the noticeable Havelis in the town are the Bhagchandika Haveli, the Lakshminarayan Ladia Haveli, and the Mohanlal Haveli. These havelis are well-known for their wall paintings and frescoes.
How to reach Mandawa
Road: Mandawa is well linked by road with the other cities of Rajasthan like Jaipur, Jodhpur, Jaisalmer, Bikaner and Udaipur.
Rail: Jhunjhunu is the near railhead to Mandawa.
Air: Jaipur is the nearest airport from to Mandawa is 195 km away.
India Tour Makers offers tour packages to Mandawa. For more info or to book a tour, please enter your query in the form specified.