Travel to Kota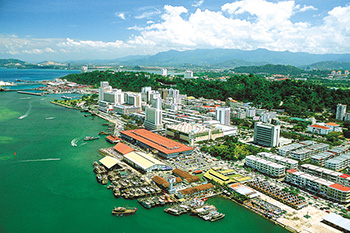 Kota's history dates back to the 13th century when the Rajputs captured the Chambal Valley and consequently formed the two states of Kota and Bundi on either side of the Chambal River. In 1626, Mughal Emperor Jahangir made Kota an independent state and Rao Madho Singh (the son of Bundi's Ruler), ascended the throne of Kota. Travellers visiting Rajasthan must make it a point to travel to Kota for the annual Dussehra Mela, a 12-day grand fair that is held in October.
Tourist Attractions in Kota
Some of the most famous tourist fascinations you can visit when you travel to Kota are itemized below.
Jag Mandir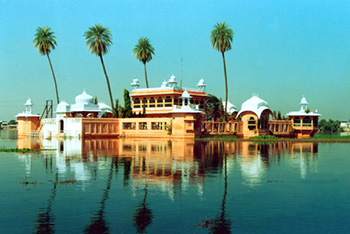 This palace is situated in the middle of the artificial lake of Kishore Sagar. The lake dates back to the late 13th century while the palace was built in 1742. The stunning monument constructed of red-sandstone is a attractive sight to behold. Apart from enjoying boat-rides in this attractive lake, one can also visit Kesar Bagh (well-known for its royal cenotaphs), which lies near.
Haveli of Devtaji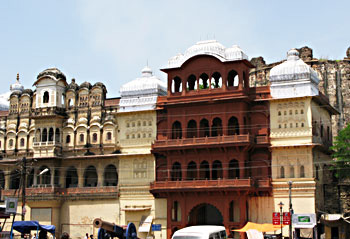 The Haveli of Devta ShridharjI is famous for its wonderful frescoes, beautiful wall paintings and exquisitely designed rooms. Located in the centre of a demanding market, the Haveli is a place you must visit if you travel to Kota.
How to reach Kota
Road: Many buses run between Kota and other cities like Jaipur, Udaipur, Ajmer, Jodhpur. The main bus station in Kota is situated on the Bundi road. Tourists can also discover the town on auto-rickshaws and cycle-rickshaws.
Rail: Number of trains passes through or stops here in Kota. It lies in between Delhi and Mumbai railway lines.
Air: Kota does not have an airport; the nearest airport is Jaipur, which is 250 km od distance by road.
India Tour Makers offers tour packages to Kota. For more info or to book a tour, please enter your query in the form specified.