Travel to Chittorgarh
The town of Chittorgarh still repeats with the stories of valour and sacrifice of its past heroes. This historic town that is spread over 8- mile long hill has been one of the most severely contested seats of power in Indian history. Ravaged thrice, this town also has been a witness to some of the goriest battles ever documented.
Alauddin Khilji was the first to attack Chittorgarh in 1300 A.D. Legend has it that he was fascinated by the beauty of the Rani Padmini and was overcome by an overpowering wish to possess her. But the noble queen chose death over dishonour and committed Jauhar along with other women.
Bahadur Shah led a second attack on Chittorgarh in 1513 A.D. directly followed by Emperor Akbar who reduced the town to stones. But the soul of bravery and sacrifice shown by the heroic people of Chittorgarh on each occasion still echoes among the ruins. A holiday to this town of the brave will be the knowledge of a lifetime. The correct time to visit Chittorgarh is from Oct to March.
Tourist Attractions in Chittorgarh
Certain few famous tourist attractions you could visit when you travel to Chittorgarh are itemized below.
Chittorgarh Fort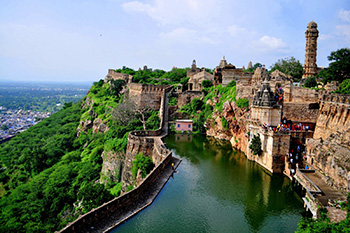 On the edge on a steep hill, the
Chittorgarh Fort
is the most well-known tourist fascination of Chittorgarh. This inspiring structure is a silent reminder of the magnificent past of Chittorgarh. This fort was constructed by the Maurayans in the 8th century. Even though most of it is in ruins, the fort still manages to capture the imagination of anyone who visits it. The remarkable main gate
(Suraj Pol)
is classic examples of Rajput architecture.
Vijay Stambh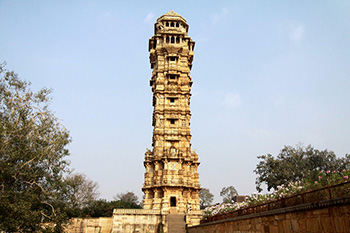 The
Vijay Stambh
locally known as
The Victory Tower
was constructed by Rana Kumbha to mark his victory over Mahmud Khilji, the ruler of Malwa in 1430. The 38 m high structure with 9 storeys is luxuriously decorated with sculptures of Hindu deities and is one of the most fascinating places you could visit when you travel to Chittorgarh.
Rana Kumbha's Palace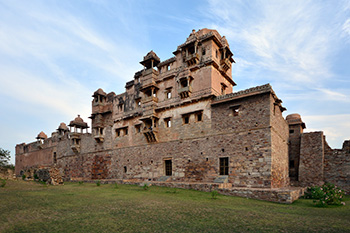 This ruined structure is the highest monument inside the Chittorgarh Fort. The palace is supposed to have underground cellars where Rani Padmini and her women committed Jauhar to escape humiliation.
How to reach Chittorgarh
Road: Roads connect Chittorgarh to some major cities like Udaipur, Jaipur, Jodhpur, and Ahmedabad. Bus and taxi services are simply available to many major locations.
Rail: Regular trains link Chittorgarh to cities like Udaipur, Ahmedabad, Jaipur and Jodhpur.
Air: The nearest airport to Chittorgarh is at Udaipur, which is 115 km away. The airport has regular flights to Delhi, Jaipur, Mumbai and Bangalore.
India Tour Makers offers tour packages to Chittorgarh. For more info or to book a tour, please enter your query in the form specified.