Travel to Bundi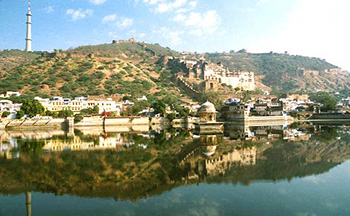 A small town situated in the Hadoti region of Rajasthan state in northwest India, It is of particular architectural note for its ornate forts, palaces, and step well reservoirs known as Baoris.
Separately from its palaces, forts, lakes and beautiful surroundings, Bundi also has a number of colourful bazaars that amaze your eyes. Bundi is also well-known for the yearly Teej festival held anytime during the months of July and August. Tourists have to make it a point to travel to Bundi throughout this colourful festival, which can be an amazing experience. The best time to visit Bundi is during the winters (October to March).
Tourist Attractions in Bundi
Certain few famous tourist attractions you can visit when you travel to Bundi are itemized below.
Taragarh Fort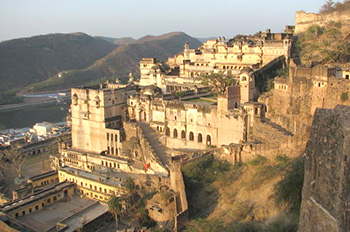 Taragarh Fort is the most inspiring of structures of city of Bundi in Indian state of Rajasthan. It was constructed in 1333 upon a steep hillside. There are three gateways to the fort, famous as Lakshmi Pol, Phuta Darwaza and Gagudi ki Phatak. It deals a panoramic view of the city of Bundi located in Nagpahari of Aravalli ranges. The fort imprisonment by Dara Shikoh and ruled as mughal subah from 1630-1774.
Sukh Mahal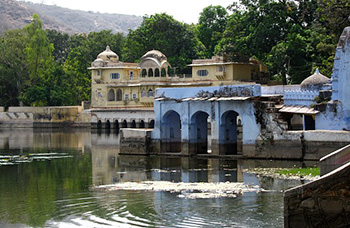 The Sukh Mahal is an attractive summer palace located on the Sukh Sagar Lake. Encircled by beautiful gardens, this palace is whispered to have an underground tunnel, which connects it to the old palace in the city of Bundi.
Nawal Sagar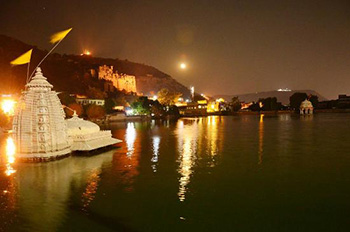 The Nawal Lake is one of the most attractive spots you could visit when you travel to Bundi. At the center of this lake lies a half-submerged temple devoted to Varuna, the Aryan god of water. The beauty of this lake appeals a vast number of travellers who are left spellbound by the mystic way this lake reveals the entire city.
How to reach Bundi
Road: Bundi is linked to all the cities of Rajasthan you can move around Bundi on taxis and auto-rickshaws. Bicycles, which are easily offered on hire, are also an excellent option to discover the city.
Rail: Bundi has a railway station situated at the southern end of the city. It is well linked to Agra and Udaipur by trains.
Air: The nearest airport is Jaipur which is 216 km away.
India Tour Makers offers tour packages to Bundi. For more info or to book a tour, please enter your query in the form specified.