Travel to Bandhavgarh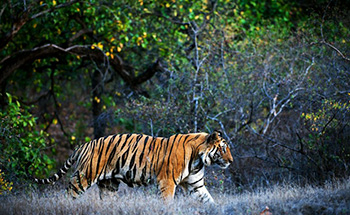 The Bandhavgarh National Park is an actual crown of the rich wildlife of Madhya Pradesh. It is situated about 190 km from Jabalpur. Bandhavgarh was the game reserve of the Maharajas of Rewa before becoming a national park in 1966. Though it started with just 108 square km of land, its territory was later stretched by including two adjoining sal forests in 1988. Bandhavgarh is a classic moist, deciduous forest, so communal to Central India.
Tourist Attractions in Bandhavgarh
Flora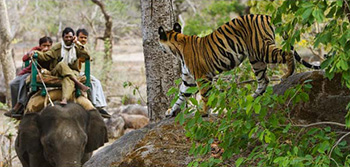 The flora of Bandhavgarh is the classic moist, deciduous forest, which is communal to Central India. Most of the park area is covered with rich Shorea robusta forests, although at higher altitudes you would also come across mixed forests comprising of sali, saj, saja, etc. Large stretches of bamboo and grassland are also existent here.
Fauna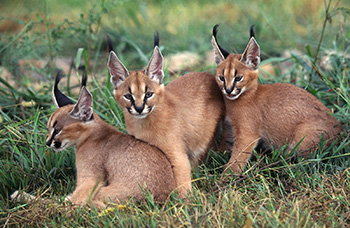 The park boasts of an extensive variety of game. Its main wild beasts are tiger, leopard, sambar, muntjac, nilgai, chinkara, mountain gazelle, and wild boar. The gaur is usually spotted in March.
It is predictable that there are around 65 tigers, over 4,600 sambars, and over 6,000 spotted deer in this reserve. The park is also rich in avifauna and birds such as the green pigeon, crested serpent eagle, and variable hawk eagle are seen here. There are also several cave shrines scattered around the park, with Brahmi inscriptions dating back to the 2st century B.C.
Bandhavgarh Fort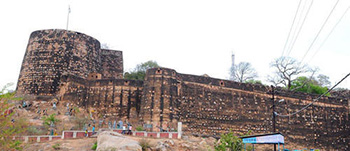 The Bandhavgarh Fort is situated within the park and was constructed by the Maharajas of Rewa at a height of 850 m above the surrounding countryside. It compromises a panoramic view of the wildlife preserve and is believed to be 1900 years old. A tributary called Charganga runs beside the fort.
Excursions in Bandhavgarh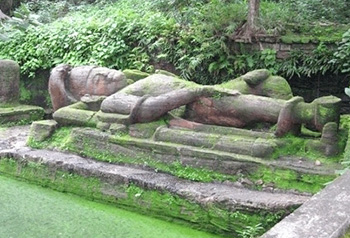 Only two urban inhabitations around Bandhavgarh are Katani and Umaria. Katni is situated 130 km away and is a major junction on the South-Eastern Railways. Umari is situated at a distance of just 30 km, and is usually the base for travellers who come to discover the park.
Tourists could also take a trip to Khajuraho and Jabalpur, as well as Bheraghat on the river Narmada, for all of these are located in about the same region.
How to Reach Bandhavgarh
Bandhavgarh is midway between to the city of Jabalpur and well-known visitor spot of Khajuraho. It can be reached by using roads from both these places. Katni at a distance of 125 km on the South-Eastern Railways is the perfect railway connection for reaching Bandhavgarh via train.
Important Travel Information
The onset of summers is in April and the rising temperatures endure till June, and are sometimes as high as 40°C. The weather is cool and pleasant from November to February. The park is closed during the monsoon season, which also accords with the breeding season, from June till October. Heavy rainfall washes away most of the jungle pathways during these months. Through summer, light cottons are appropriate, but for the winters, woollen clothing is suggested.
India Tour Makers offers tour packages to Bhandhavgarh. For more info or to book a tour, please enter your query in the form specified.