Travel to Alwar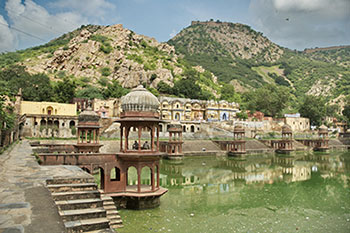 Widely known as 'The Land of Tigers', Alwar lies on the borders of the Aravalli Range in Rajasthan. This city boasts of a magnificent past, which is further enhanced by the tales of bravery and sacrifice of its people in the days of yore. Alwar was a very important Rajput state that came under Mughal control in the 12th century. Maharana Pratap Singh, a Rajput ruler won it back in the 17th century and designed a state of his own.
Several citadels, beautiful lakes and colourful bazaars dot the entire landscape of Alwar, which attracts many travellers throughout the year. Alwar is also well-known for the famous Sariska Tiger Reserve, which is a place you must visit if you travel to Alwar. However, the best time to travel to Alwar is from October to March.
Tourist Attractions in Alwar
Certain famous tourist attractions you could visit if you will travel to Alwar are itemized below.
Sariska Tiger Reserve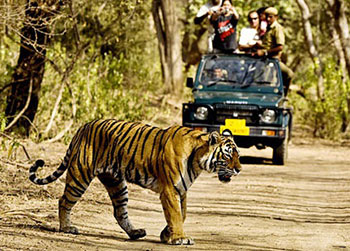 The Sariska Tiger Reserve, established in 1956 is home to the tiger, nilgai (blue bull), cheetal, four horned antelope and the wild boar. Spread-eagled over a forest area of nearly 750 km, this reserve comes under the Project Tiger. A number of ruined ancient temples could be seen inside the forest reserve. An ancient palace inside the park has now been transformed into a hotel.
Vinay Vilas Mahal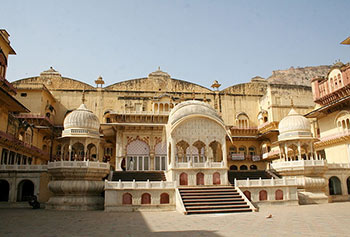 The Vinay Vilas Mahal also well-known as the City Palace dates back to the 17th century and is a classic combination of Rajput and Mughal styles of design. While all the ground floors have converted into government workplaces, the upper floor houses a gallery which has a rich collection of items on display.
Bala Quila (The Fort)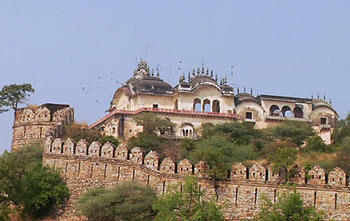 This imposing fort that was built before the rise of the Mughal Empire, spreads over an area of 4 km from north to south and 2 km from east to west. The Bala Quila further rises 310 meters above the town and also houses a number of temples and palaces. Numerous vast gates and towers further add to the magnificence of this structure. This is a must visit site if you travel to Alwar.
How to reach Alwar
Road: Buses and taxis connect Alwar to Delhi (155 km) and Jaipur (146). To travel locally cycle-rickshaws and tongas (horse drawn carriages) are straightforwardly available.
Rail: Alwar has a number of regular trains that connect it to Delhi and other parts of the destinations.
Air: Jaipur is the nearest airport, which has regular flights to and from Mumbai, Delhi, Hyderabad, and Udaipur.
India Tour Makers offers tour packages to Alwar. For more info or to book a tour, please enter your query in the form specified.